"Seven unique racing bike road in Limburg and Voeren that you'll never have cycled before."
Limburg and Voeren are certainly on the winner's podium when it comes to the most beautiful racing bike road in the world. Nowhere else will you find a more varied terrain and the world's best racing cyclists regularly showcase their talents here in the Volta Limburg Classic and, of course, the Amstel Gold Race. Many top cyclists say that the Amstel is their favourite race and the area is also extremely popular with recreational cyclists. Ask any keen cyclist about Cauberg Hill, Keutenberg Hill or Eyserbosweg Road, and you'll hear moans and groans of both pain and yearning. We know these hills like the back of our hands, and even if you don't know the way, you can rely on the signposts placed by the organisers of the Amstel Gold Race. However, this border region has far more beauty in store. For this reason, we present the following seven unique racing bike road in Limburg that are relatively unknown yet too beautiful to ignore. 
Racing bike road with 7 unique climbs
Just over the border in Voeren, a steep road through the forests takes you from 's-Gravenvoeren to Ulvend. The road surface is constructed from concrete plates and is now of reasonably high quality, as a result of which it may become a more mainstream route.
Maximum gradient: 17%
Average gradient: 8.6%
Length: 0.77 km
2. Rullen
The Krommejong route -a gradual climb from Voeren to the Rue d'Aubel through road on the plateau above Aubel. However, just before the climb begins, you can take a right turn into a smaller road. You can see it coming from far away, and opinions are divided: does it look steeper from a distance or not? All in all, it's a tough climb until you get to the main road.
Maximum gradient: 14%
Average gradient: 6.7%
Length: 0.91 km
3. Les Waides
Although included in wide range of tour routes, this tough guy remains relatively anonymous. At some points it can be an extremely challenging climb, although it's also quite beautiful. Starting around Val-Dieu Abbey, you ride uphill through a village but instead of following the main road, you take a small road into the meadows. The beginning of the end of the route is signalled when trees begin to pass by on your left-hand side and later on, after taking a sharp turn leftwards, you arrive at the finish on a false flat.
Maximum gradient: 14%
Average gradient: 4.4%
Length: 2.6 km
4. Kinkenweg
A monster like no other. It's one of the steepest climbs in the region, made even harder by the terrible condition of the surface. In short, the Kinkenweg has all the ingredients for a fantastic cycling route! Coming from Hombourg, you turn right at the railway track in the village of Montzen to enter the Kinkenweg. The rest you'll have to find out for yourself…
Maximum gradient: 17%
Average gradient: 3.1%
Length: 4 km
5. Lemierserweg
This practically unknown climb is found just over the border in Germany. It's odd that so few people know about it, as it is both beautiful and challenging. Keep your wits about you in Lemiers, as you have to take a small path to cycle over the border to get to the climb.
Maximum gradient: 12%
Average gradient: 6.6%
Length: 0.9 km
6. Piemert Hill
The climb with the best name in all of Limburg. You can also call it Hoogcruts Hill, but trust me, it's much more fun to call it Piemert! It's a gruelling climb, especially after completing many kilometres at altitude to get there. It's also immediately followed by Waufsberg Hill. Hooray!
Maximum gradient: 12%
Average gradient: 8%
Length: 0.9 km
7. Bergenhuizen
This climb is featured in the final of the Volta Limburg Classic, so you'll definitely come across this one if you ever cycle this route. It's another climb that's avoided by the Amstel and is therefore less well-known among cycling fans. However, it's certainly worth the effort.
Maximum gradient: 13%
Average gradient: 8%
Length: 0.6 km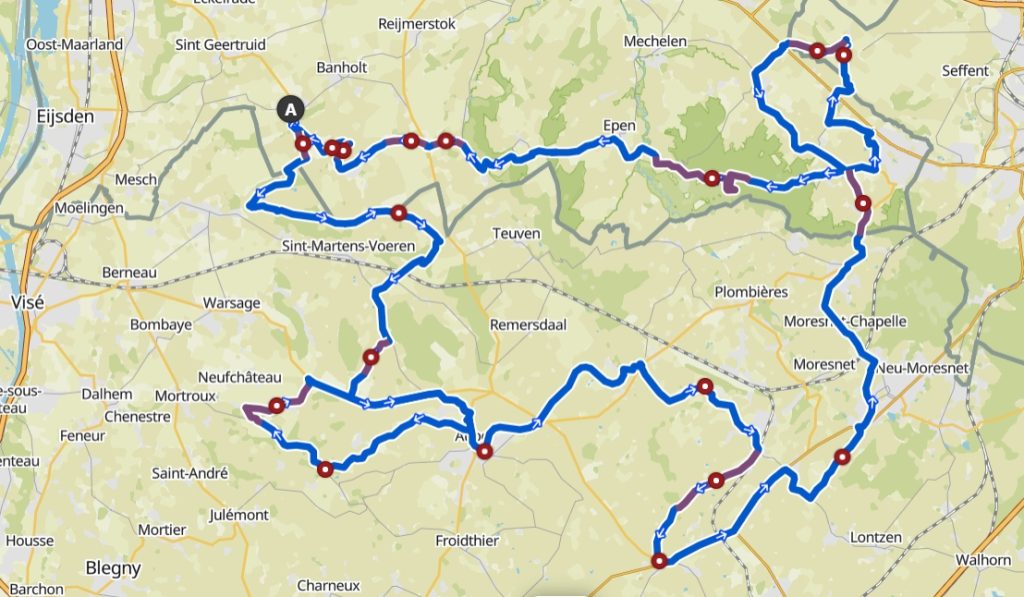 Click here to find and download a GPX file containing these seven unique racing bike road in Limburg and Voeren that you'll never have cycled before and that include a deceptively high number of kilometres at altitude. We hope you enjoy your bike tours of Limburg!