Bike Wall Rack Loft Aluminium Grey.
The wall bike rack Loft Aluminium Grey is a color that fits into any home decor. The Artivelo BikeDock gives your interior a tough or soft look. In addition to the Aluminium Grey powdercoat, we made the pad in brown leather and finished it of with silver stitching.
The Artivelo BikeDock Loft is an advanced and beautifully designed wall mounting bracket for hanging your bicycle on the wall. It's designed with an eye for quality and simplicity and produced from high quality steel. This stylish and compact bike wall rack allows you to hang your bike and storage your cycling gear elegantly on your wall. Strong 3 mm thick steel, coated with lacquer which is powder coated. The two removable shelves and three loose hooks adapt to your needs. Artivelo BikeDock Loft is mounted by 4 bolts in the wall and can carry your bike shoes, helmet, goggles, etc. The inside of the BikeDock, where you hang your bike, is fitted with a leather pad with durable foam. This foam cushion is intended to protect and adapts to any type of road bike. The bike wall rack includes a holder for a bike computer.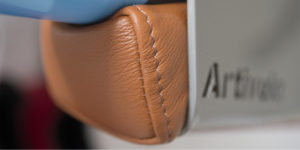 √ Strong 3 mm thick steel.
√ Coated with lacquer which is powder coated
√ Two removable shelves.
√ Three loose hooks
√ The leather foam cushion adapts to most type of frames (sloping or oversized frame, etc).
√ Holder for a bike computer
√ Free International Shipping to over 30 Countries Worldwide
√ Maximum handlebar width 65 cm
√ Including mounting material
√ Carrying capacity 15 kg
√ Shipping in one business day.